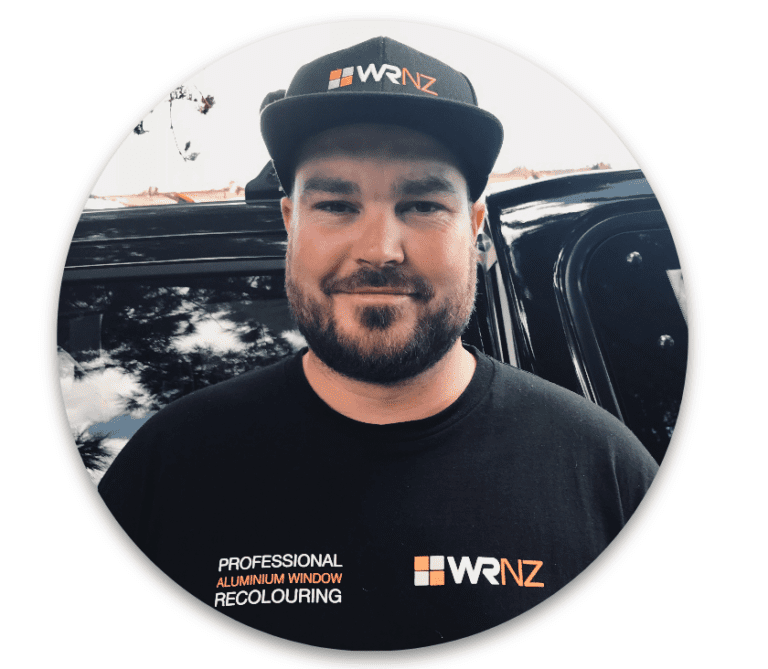 Devan Vitali
Director at WRNZ / Devan employs automotive and marine spray-painters to carry out powder-coat repairs for construction companies and architects. Damage happens, we all get that, it's 'almost' unavoidable and we have the means to repair it… on-site & in-situ…. Helping get that construction project 'over-the-line'. We also re-spray homes that usually have that old 'Karaka Green' joinery that has faded after 20 years. We do full restoration and can change the colour to a modern neutral colour like 'Matt Black' – 'Grey Friars' or 'Appliance White'.
Devan's background has been working in the marine industry spray-painting luxury super-yachts at various boatyards throughout New Zealand, Indonesia and Australia, he decided to make the transition into: Professionally Recolouring Aluminium Joinery and to start up the Window Recolouring business. It has been a very natural transition as Devan gets to apply all of his skills and knowledge from working on aluminium boats to aluminium window joinery.
Devan loves meeting new people and being out on the road. His interests include boxing, drumming, writing music & fishing. WRNZ loves showcasing the high standard of finish that we are able achieve due to our experience of working to the highest standards in the luxury yacht industry.
WRNZ TEAM
Our team consists of highly experienced team leaders, technicians, junior technicians and trainees. We have a strong positive culture and we all enjoy working together and working hard. We're all professional, honest, reliable, friendly, knowledgeable and go the extra mile. Our previous clients always comment on how much they enjoyed having our team around. We're very proud of our team and we all strive for excellence in all we do.